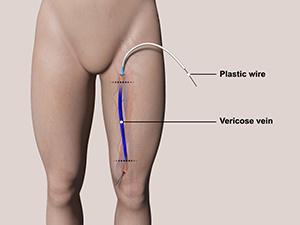 Varicose vein are the large veins commonly seen in the legs. The surgical removal of varicose vein is a cosmetic procedure. Endovenous ablation is an image-guided, minimally invasive treatment for varicose veins. The procedure uses radio-frequency or laser energy to cauterize (burn) and close the abnormal veins leading to varicose veins.
Varicose vein usually occur when valves in the veins are not working properly. Veins normally have one way valves that that prevent your blood from flowing back up toward the heart.. When this is function does not work properly then blood start collecting in the veins. Due to this there is pain and swelling in the veins.
Surgeon for Varicose Veins Surgery in Faridabad:
Dr B D Pathak is one of the best general surgeon in Faridabad and currently working at Fortis Escorts Hospital, Faridabad. He performed many varicose vein successfully. Dr Pathak perform varicose vein surgery at Fortis Escorts Hospital, Faridabad. For any query please book an appointment.