Dr. Brahm Datt Pathak
Director – Laparoscopic, General & Bariatric Surgery, Fortis Escorts Hospital, Faridabad
Dr. B D Pathak is one of the most experienced surgeons in Faridabad. He has treated many patients, which, makes him the most renowned surgeon in Faridabad. Currently, he is working at Fortis Escorts Hospital, Faridabad as Director-General and Laparoscopic Surgery. Dr. Pathak is the pioneer in laparoscopic surgery in Faridabad and he is doing all the surgery laparoscopically, which gives an excellent result in patient recovery. He has done his master's from the Post Graduate Institute of Medical Sciences, Rohtak, and has also completed several fellowships and training abroad. He has vast experience of more than 30 years in the field of Laparoscopic, General, and Bariatric Surgery.
Dr. Pathak's special interest is in laparoscopic surgery, bariatric surgery, VATS, varicose vein surgery & abdomen GI surgical procedures. Dr. Pathak is a "Limica Book" record holder for performing the largest spleen (14.9kg). Dr. Pathak has successfully performed more than 30000 laparoscopic surgeries and several national and international publications to his credit. He is also a member of many national and international surgical forums
Surgeon in Faridabad:
Dr. B D Pathak has done more than 30000 surgeries in Faridabad and its surroundings. Dr. Pathak has been associated with many reputed Govt. and Private hospitals in Faridabad. He is always concern about patient treatment and well-being. Dr. Pathak has done many complicated surgeries and the patient recovered very well.
We Offer Best Medical Services
Dr. B D Pathak is an experienced laparoscopic surgeon in India. He has gained enough experience to do all kind of Laparoscopic Surgeries.
About Me
Or
Make an Appointment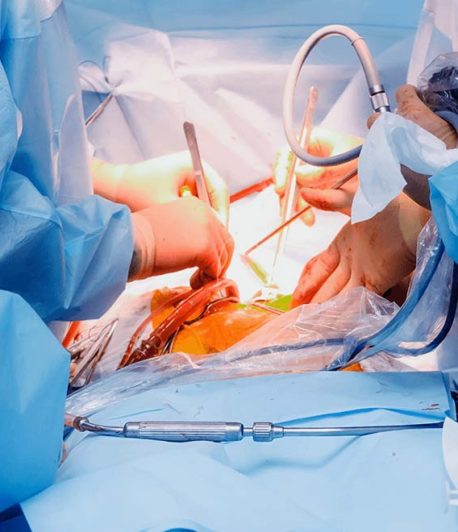 In addition to the laparoscopic procedures, the department provides specialist care in following Specialities
Benign and Malignant GI disorders

Contemporary management of Anorectal disorders like hemorrhoids, fissure in ano and fistula in ano

Endocrine disorders of thyroid, breast, adrenals and salivary glands.